Executive Director of Human Resources and Student Services
(864) 403-2000
Ann Margaret Brooks
District Office Receptionist
(864) 403-2000
Anderson District for Substitutes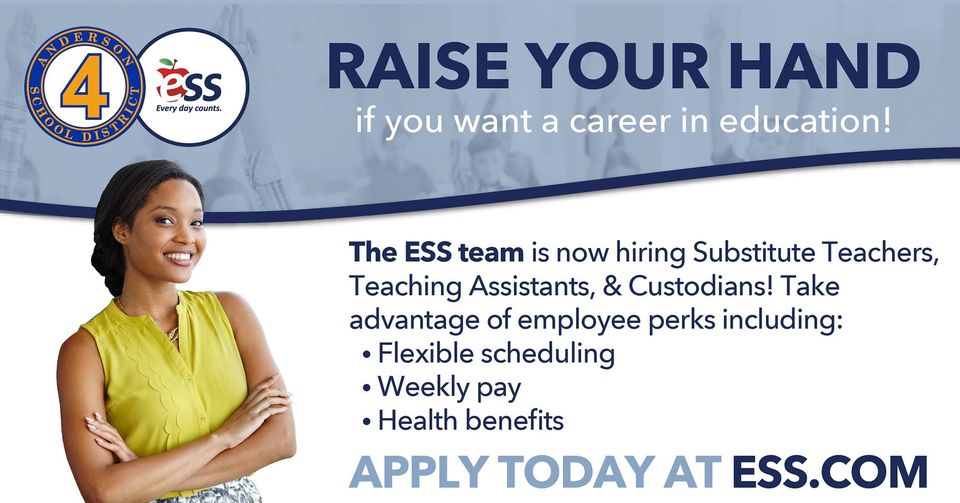 Substitute teachers help maintain our students' academic progress through their commitment to quality teaching and learning. In the absence of the regular classroom teacher, they make a difference in our schools.
Anderson School District Four has partnered with ESS to manage our substitute program. A leader in K-12 staffing, ESS is now responsible for the hiring, training, and placement of all daily and long-term substitute teachers, classroom aides, custodians, nurses and clerical personnel.
If you're interested in working as a substitute for our district, please visit ESS to apply or call 877.983.2244 for more information.
Anderson Four Substitute Pay Rates 2022-23
High School Diploma, Associate or College Degree: $70 daily

SC Certified Teacher: $85 daily

Nurses: $120 daily

Certified Long-Term (10 days or more) in a Certified Position: $120

Non-Certified Long-Term in a Certified Position: $75

Custodian (based on experience)$11.44 - $17.47 per hour